8 yr old Autistic boy quad racing
by Sharon
(United Kingdom)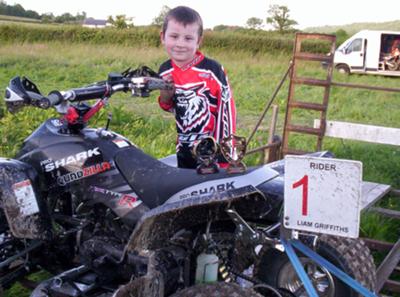 Hi, my name is Sharon and I live in the UK.


I have a 8 yr old boy who has been diagnosed with high functioning Autism / Asperger's Syndrome.
Last year we were asked by a charity organisation to write a story about our son, they had found out that he does quad racing. At the time they didnt know how bad things had been for us due to him not sleeping ,having problems with eating or lack of him eating.
He suffered terrible bullying in school to the point of nearly having his nose broken. However we were lucky enough to get a councillor who not only helped him, but also trained us to help him and deal with all the problems.
At the time mentally he was in a bad place and did not want to go anywhere near children, the only time he went out of the house was to ride his quad bike.
We were lucky that the local race club offered him a chance to race and it turned out he was very tallented. He has also managed to meet new friends who dont make fun of him when he has bad days and walks around with his ear deffenders on because the noise of the quads hurts his ears, and they also realize that sometimes he needs time on his own.
He has gone from strenth to strenth and is now racing quite a lot and winning. He has had so much interest taken in him after the story was published we were asked to put something on YouTube.
I hope this story will be of use to your readers because it is great to find a site that shows the happy side of autism.
Note to readers of this story... Here is Liam's video (the wonderful boy that this story is about). :o)
---
Liam's Asperger's Syndrome Success Story - Original Story
More about Liam's Asperger's Syndrome Success Story - Part 1
More about Liam's Asperger's Syndrome Success Story - Part 2
More about Liam's Asperger's Syndrome Success Story - Part 3
More about Liam's Asperger's Syndrome Success Story - Part 4
---