Life with ASD - From the Inside
Autism, Asperger's Syndrome, and PDD-NOS
Because of the DSM-V removing Asperger's and rolling it all under Autism our website will be changing sometime in the near future to be LifeWithASD.com (and as you visit you'll see the site changing in how it looks so be sure to hit refresh every time you get here in case I've made a change). :)
If you type LifeWithASD.com into a browser it'll bring you directly here to our website. :) In the meantime you'll read "Asperger's" a lot. That's because I started building this website back in 2005 when my son was diagnosed with Asperger's Syndrome.
Asperger's Syndrome (a part of Autism), Autistic Spectrum Disorders aka Autism Spectrum Disorders aka ASD consisting of, but not limited to Autism, and PDD-NOS (Pervasive Developmental Disorder - Not Otherwise Specified)

---

"Every child is gifted. They just unwrap their packages at different times." -- Unknown

---
My 19 year old son Cameron was diagnosed with Asperger's Syndrome (AS) in November 2005 when he was 12 years old. Through all of my research I know that he should have been diagnosed with Autism before he was 3 (my daughter should have been too).
I started this website, for reasons I've explained a little further down, shortly after he was diagnosed.
On March 3 2011 I added additional information below here, information about some of the things that happened prior to his diagnosis as well as some of the things that have happened since his diagnosis...
Even as recent as today I am still learning the significance of those things that happened, and things that are still happening. Also please note that not everything is in chronological order, it's more as I was typing and remembering everything.
Autism Spectrum Disorders prevalence update:

When I started this website in 2005, when my son was diagnosed with Asperger's Syndrome, I believe the numbers were approximately 1 in 150 children has Autism or is on the Autism Spectrum (I don't know that I have that number exactly right).

In 2006 the CDC changed the numbers to be approximately 1 in 110.

The CDC has now changed that again (today is March 29 2012) to be 1 in 88 children is diagnosed with Autism before the age of 8!!

While that does include those with Asperger's Syndrome and PDD-NOS, it does not account for everyone who is or was diagnosed after the age of 8 (e.g. my son was diagnosed when he was about a month shy of his 12th birthday).

How much worse are those numbers when they take into account children and adults who were diagnosed after age 8?

Kinda scary...

Another Autism Spectrum Disorders prevalence update:

Just a couple days after the CDC said 1 in 88, the US Autism and Asperger's Syndrome Association (USAAA) sent out a newsletter stating that the Salt Lake Tribune had a front page article that Autism was at the rate of 1 in 32 (remember, before the age of 8). I've tried to find that but the closest I can find is 1 in 47 children are on the Autism Spectrum - Autism, Asperger's Syndrome and PDD-NOS. Regardless of whether it's 1 in 32 or 1 in 47, this is terrifying!
Autism, Asperger's Syndrome, and PDD-NOS - Our Story:
I always knew that there was something "going on" with Cameron, starting between 2 and 3 years old, but there was never a name put to it.
He hit all of his milestones early. Lifted his head early, rolled over early, crawled early, walked early (8 months!), started jabbering, was a happy baby.
He was current on his vaccinations. Or so I remembered (incorrectly). I've explained a little further down here what I discovered about his MMR shot.
Kawasaki Disease aka Kawasaki Syndrome
He became very ill in January 2005 and I had him in to the doctors day after day, sometimes twice a day, trying to figure out what was wrong, as he got sicker and sicker.
Eventually he was diagnosed with Kawasaki Disease. There's much more to this story - febrile seizures, severe deyhdration requiring hospitalization more than once, stopping breathing, some type of what I now believe to have been "partial seizures", etc. but I'll tell it all elsewhere here at my website.
He was hospitalized and received Immuno-Globulin and the next morning he was back to about 80%-90% of himself.
Autism Sets In
Then at the end of the year, shortly before his 2nd birthday, things started changing. Little did I know that Autism, Asperger's Syndrome, PDD-NOS (Pervasive Developmental Disorder - Not Otherwise Specified) was settling in.
Update August 3 2012:

While I have never doubted the vaccine theory as being a trigger for autism for many, I never for once believed that Cameron's MMR shot had anything to do with it because other than him being treated for his Kawasaki Disease he was fine at 18 months.

The other day I came across his shot records. Most kids have their MMR shot when they're roughly 18 months old (or at least that was the way then, I don't know about now) and that's when most parents report that their child started exhibiting the symptoms of Autism. Cameron didn't have his MMR shot until Oct. 27, 1 month and 17 days before his 2nd birthday. I had forgotten that it had been put off because of his Kawasaki Disease and subsequent aspirin therapy.

By January, just over 2 months later, Autism had him.
He then started slamming his head
horrendously violent slamming
on any surface, not just one slam but 10-15-20 slams at a time.
His then pediatrician told me to put him in a helmet and that he'd eventually stop...
That was all he told me!
He did this for at least a year (I suspect he sustained some frontal lobe damage that hasn't been officially discovered yet), and then also he was diagnosed with Rhythmic Movement Disorder because of the way he banged his head at night when trying to sleep and his body movements. Also night terrors. Prior to his 2nd birthday he never had any of these troubles.
Parallel Play
Story time at night... I'd sit with with both kids (Shelby is 2 1/2 years older than Cameron) to read to them, or go through Where's Waldo?
. But Cameron wouldn't directly participate (unless it was a Waldo book). Otherwise he would sit next to me on the bed (him on my left and Shelby on my right) and look at his own book (usually Waldo) while I read another book to Shelby.
And oh my gosh, as I'm writing this I'm remembering "I Hate Green Eggs and Ham Sam I Am!". If it wasn't Waldo it was Dr. Seuss's Green Eggs and Ham
.
He used to giggle (oh how I loved his giggle - he really doesn't laugh anymore or show much emotion at all other than over the top anger) every time I'd say:
"Green Eggs and Ham again??? ... again??? I hate Green Eggs and Ham!". And then we'd settle in and he'd giggle again as I read the book with as much emotion as I could. :)
All of the Dr. Seuss books are fun but that was always his number one pick out of all of our Dr. Seuss books.
Just Slightly Delayed
I was told by specialists that he was *just slightly delayed*. Ironically, some of these specialists were Autism specialists but they never caught the Autism or Asperger's Syndrome or PDD-NOS, and at 3 years of age a psychologist or social worker with the group pronounced my son "cured" - needless to say, that person was unequivocally wrong, so way out in left field that he couldn't be seen from the home plate...
I was told by these same specialists to withhold his dinner at night when he threw it off the table, don't let him have anything else to eat, and then he'd be hungry enough in the morning to eat (now I know it was, and still is, issues with tastes, textures, etc., a common problem for kids, and even adults, with Asperger's Syndrome)...
The 911 Operator Told Me That I Had Described a Dead Person to Her
He used to stop breathing. Not while doing anything other than walking or sitting or whatever, it wasn't due to being startled or anything like that. He'd stiffen up in my arms, his eyes would roll back in his head, his back would arch, his lips would get blue, and his face would be gray.
I remember during one of my many calls to 911, the operator told me, you just described a dead person to me. This still brings me to tears. He was 17 months old or so. That's about the time his Kawasaki Disease was finally diagnosed.
Severe Ear Infections
He had ongoing severe ear infections. After about 2 years of begging for tubes for him, and the pediatrician turning me down every time, I was told to tell the doctor to use a Tympanogram to check his ears. I told the pediatrician and he told me there was no need.
I told him again, do it.
Within seconds of looking in Cameron's ears with the Tympanogram, the doctor's exact words were "Hmmm.... he does need tubes." (!!)
He ended up having four sets of tubes, the first when he was one month shy of his 3rd birthday, the last set when he was in 1st or 2nd grade.
I found out much later in life that some children with Asperger's Syndrome and other forms of Autism will bang their heads when they hurt because they can't communicate their hurt.
Cameron didn't just "bang" his head, he slammed his head. If you scroll down a little further you'll see a picture of both of my kiddies. Those injuries on his forehead and his nose are from slamming his head (repeatedly 7-10 times per episode, many episodes per day, with episodes happening every single day) on things even as hard as concrete, and those injuries in that picture as bad as they look are actually partially healed! His head slamming was horrendous. Roughly 17 years later I can still hear his forehead hitting the floor again and again.
*Update Sep 13 2011: His ears are giving him troubles again. We went into the doctor and he checked it out and sure enough the inner part of his ear never did form properly. He'll deal with this problem for life.

*Update Aug 3 2012: He had to see an ear specialist again. While he can go on dealing with it if he wants there is also cause for surgery to put permanent "tubes" in his ear canals. They told him that it's up to him since he's the one that has to deal with it. If it's not bad enough for surgery and he doesn't want it then he can choose to not have it done. But if he does decide to have it I'll support him 100% and make sure the surgery is paid for somehow.

*Update Sep 6 2012: He's decided for the surgery because his ears are continually bothering him.

*Update August 2 2013: He had the permanent T-tubes put in his ears in November 2012. Of course, as most parents/caregivers of kids with autism know, change isn't always the greatest thing and even though the ear infections are gone he grew so used to some of the clogging or whatever was going on in there that now he's not exactly happy to have the tubes, now he wants to go back to what it was before (but I called that before he even had the permanent tubes put in! ;).
Speech Delay
He was "babbling" and trying to talk but he couldn't talk right. Instead of saying daddy, he would say his father's name, Curtis. But he said it "Lurlis". Then after quite some time it became "Curlis". Eventually he was able to say "Curtis".
I would ask him, do you know much I love you? I would then throw my arms wide and say "This Much!" Eventually he started responding by opening his arms wide and say "mee maw"... He was 4 years old. And yet according to the Autism and Asperger's Syndrome "specialists" he was not speech delayed.
Violence
He became vicious, very very violent, he would pull my daughter and I to the floor with our hair, he bit his cousin in his cheek, he would pull the drawers out in the kitchen and throw all the contents throughout the kitchen, he would throw the dining chairs as best he could ... but he was just as mean to himself.
And yet, other days he seemed the picture of content. "Cheese" was always a common word, whether a picture was being taken or not. Whenever he smiled he'd say cheese, cheese, cheese... I have beautiful pictures of him, of both of my kids, smiling and happy.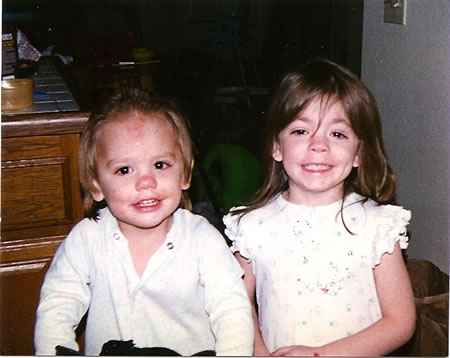 CHEESE! :)
Notice the red mark near the top in the middle of Cameron's forehead?
And his nose? In this picture those marks are actually partially healed;
those are some of the sores he'd get from slamming his head.
That's my sweet Shelby on the right. :)
No One Can Hold Him Except Mom
I can still feel him in my arms. But by the time he was three he was very limited in who he would let hold him but he would wrap his arms around me and not let go (when he wasn't pulling me to the ground by my hair when he was angry) ;-) ...
Before this limitation came into play, he'd let other people hold him, not a lot of other people but some.
Asperger's Syndrome (or as I suspect much more strongly now, Autism) was taking my baby away from me. But I had no idea what it was then, it was only years later that I learned it was Autism/Asperger's Syndrome.
And I truly believe that the only reason (when he was finally diagnosed) that it was Asperger's Syndrome that he was diagnosed with was because I had worked so hard with him over the years (instinctively, I had no idea what was going on with him, I just learned what worked and what didn't).
My friend told me that the only reason he was as far as he was is because I put in 110% with him.
If I hadn't have worked with him as I did, he wouldn't be to the level he is today - still no living skills and whatnot but he's definitely advanced in other areas that I believe he wouldn't be if I hadn't have fought to make things work for him.
Rigid Environments, Schedules, and Transition
I finally learned when he was about three years old that I needed to keep his environment as rigid as possible and that transition was, for whatever reason, a cause of terrible meltdowns (at that time I didn't know *why*, I just knew it was the way it was) ... and when he started Kindergarten I found that keeping a very, very strict (never to be broken) routine on the weekends (especially Sundays) ensured a better school week (even to today)...
I was shunned by my parents because Sunday was always a "down" day for us; we made sure everything happened the same way every Sunday which made it easier for him during the week (again I didn't know why, I just instinctively figured it out). But in so doing we missed out on a lot of family gatherings because my folks wouldn't do them on Saturday, only Sunday. We were shunned because we didn't attend but we didn't attend because whenever we did it would throw Cameron off completely.
Misbehaved and Not Disciplined Enough?
I was told repeatedly by my parents that I didn't punish him enough (my parents disowned he and I when he was 6 or 7 years old because he was *so misbehaved* and I *didn't discipline him enough* and he *wouldn't behave for them* and since I *was no longer allowed at their house, neither was he* and so on)...
He was in trouble a lot at school (starting with his very first day in Kindergarten) and I was told by his teacher and the school officials that he was terribly misbehaved...
Kids with Asperger's Syndrome are so very often bullied and the bully knows how to trick the administrators to believe that the child with Asperger's Syndrome is the problem causer!
I Did Something Terrible To Him Over Winter Break
I was told by his Kindergarten teacher that I must have done something very terrible to him over winter break because his behaviors had worsened so extremely when he went back to school after those two weeks. Yes she actually said that to me.
I lived with that guilt for years, heard those words in my head every day, until I found out that it wasn't anything I did, it was the transition from Kindergarten to home for a 2-week break and then back to Kindergarten from home that caused the problems -- (classic transition issues for kids with Asperger's Syndrome, PDD-NOS, Autism)...
I still hear those words, they still echo through my head. More than once I've thought about chasing down that teacher and telling her what a terrible impact her words had and that maybe as a teacher she should rethink how she says things to parents. But then I realize it's my frustration and anger taking over so then I let it alone again, until it raises my hackles once again. ;)
Disciplined Unfairly
He was wrongly punished and disciplined in elementary school (I would go to the school and sit with him in the car and eat lunch with him when he was unfairly put on in-school suspension)...
When he was 8, he was denied participation in an elementary school performance because he blew into the microphone during a rehearsal because that's what he'd seen someone else do at some time (kids with Asperger's Syndrome will see something and mimic it). In protest, and because he was so heartbroken that he'd been kicked out of the play, I kept him out of school the day of the performance...
He saw a psychologist at school *every single week from Kindergarten through 5th grade* (the end of elementary school, and the middle school didn't contract with the psychologist)...
In middle school he was unjustly assigned to Saturday "school" and I refused to send him because it wasn't school, it was picking up trash on the school grounds and he would be with the worst bullies and only one adult (which put him at risk of severe injury)...
Never let the school do that to your child - it's absolutely terrible (and very dangerous) for a child with Asperger's Syndrome to be put in that type of situation. No matter how hard you have to fight and no matter what the consequences may be, don't let them do that to your child.
School Districts Are the Biggest Bullies
We were chided and had veiled threats thrown at us by the school, the district, and even the district's attorneys. Here's a very out-of-line letter from the Adelanto School District's attorney that we received, and on that same page I have broken down that letter and addressed each point. If you're having trouble with your school or district, check out this letter to see if it'll help you at all.
Even after he'd been diagnosed with Asperger's Syndrome they still didn't care, they still made his and our lives miserable.
Shunned and Treated Unfairly
He was *always* shunned by the neighborhood kids and seen as a bad kid by the parents... His neighborhood bully (this kid was vicious) knew how to make it look like Cameron was doing the bad things, that everything was Cameron's fault.
And of course the boy's parents were absolutely convinced that their son was a "perfect child" and "abused" by Cameron (never mind the fact that this kid had at least 100# on Cameron [he had been held back twice in school so although he was in the same grade as Cameron he was several years older and significantly larger than Cameron]).
And of course the police said (every time I called them out when that kid physically attacked Cameron) "Well his parents [the other boy] said that it's your son's fault. Your son needs to learn how to get along with the kids in the neighborhood." (!!!!!)
The irony of that...
This kid also bullied Cameron terribly at school and I made the school put the two of them on a "no-contact contract". They were told by the school that they couldn't look at each other, talk to each other, touch each other, nothing.
As was expected (by me, not by the other kid's parents) the other kid broke the contract by calling Cameron a name and the kid was then removed from Cameron's P.E. class. Apparently the kid was on an IEP and they couldn't just move him out of the P.E. class "without cause". His breaking of the contract is what allowed them to remove him from Cameron's class.
Shame on you Mr. Police Officer! You were wrong! You believed the bully instead of the child (my son) that he was bullying. Nothing will ever come of that but I'll bet more than one parent reading this has had much the same experience (the police believing the bully over your own child) so I thought I'd throw that in here. Not that I have anything against police officers in general but when they don't bother to figure out what's really going on then I have no use for them and will now go over their heads if need be.
As a cute side note... As most of us know, our kids are really black and white, there's no gray. Well, apparently this kid looked at Cameron so he promptly marched up to the office and told the administrator that the boy had looked at him. They hadn't been serious about them not looking at each other, that would be impossible, but Cameron took it at face value and told the administrator. It was too cute. ;)
The kids on the street would have their birthday parties or whatever and Cameron was NEVER invited. When I had a birthday party for Cameron and invited his entire Kindergarten class, ONE student showed up.
Behavior Specialists, Psychiatrists, and Terrible Medications
He saw a separate behavior specialist outside of our home for years and then transitioned to a psychiatrist when he was about 7 years old, and put on many different, terrible, medications...
Before one psychiatric hospital stay he was complaining about hearing voices telling him to do things. His psychiatrist "poo-poo'd" it as nothing. Cam ended up in the psyche ward and the psychiatrist there told us that one of the medications that Cameron's psychiatrist had him on had a very rare side effect... Hearing Voices!!
The psychiatrist that dismissed our concerns before Cameron was admitted to the Loma Linda California psyche ward is (or was, hopefully he's not any more) a psychiatrist with Kaiser Permanente in Fontana, California.
When we moved from California in 2006 Kaiser and Loma Linda were not tied to each other. Kaiser didn't have a children's psychiatric ward so they contracted with Loma Linda.
-----
For parents and caregivers in Southern California, if it happens that your child does end up having to spend some time in a psychiatric hospital, Loma Linda is THE place for your child to be (at least then it was and I have no reason to suspect it's changed because Loma Linda is a premiere hospital).
And Washington parents and caregivers, do EVERYTHING YOU CAN to keep your child out of Fairfax Psychiatric Hospital in Kirkland. I'm not familiar enough with Washington yet to know what other psychiatric hospitals are available but Cameron spent 11 days in Fairfax (he ended up there within less than a month of us moving here due to the transition of moving being too much for him - but please note that the reason we moved here was to get help for him and in the long run it was the exact thing he needed; our daughter too, she blossomed when we moved here). Avoid Fairfax if you can.
-----
And there's *so much more* and I relayed *everything* to the various specialists he was seeing... I will try to write more about the myriad of his behaviors so that others can read and will probably see their own child in my writings.
Many Diagnoses But Never The Right One
He was diagnosed with several disorders - Bi-Polar Disorder, Obsessive-Compulsive Disorder (OCD), extreme General Anxiety Disorder (GAD), Oppositional Defiant Disorder (ODD), severe depression, and more.
But never did any of these specialists suggest Autism or Asperger's Syndrome or PDD-NOS.
More Bullying
He was terribly, viciously, violently bullied both in the neighborhood and at school. Kids with Asperger's Syndrome and High Functioning Autism and PDD-NOS are typically bullied mercilessly.
In middle school he was attacked by an older kid who picked Cameron up completely off of the ground and then slammed him down. Blood poured. The school had a cop assigned to it (how sad is that, that kids these days are so violent that schools have to be assigned a police officer) so we filed a complaint with him after the school personnel refused to do anything.
We called a meeting at the school (he wasn't on an IEP at that time but they knew by then that we weren't backing down) and demanded to know why the school was treating Cameron the way they were. Then we sat with the school psychologist and listed everything we could think of in regards to him and she suggested Asperger's.
That was November 2005.
Finally A Direction To Go
I jumped online and cried (and cried and cried) as I read the symptoms of Asperger's Syndrome, the very same problems Cameron had, in the minimal information that I could find. I hadn't found anything that told me that Asperger's is Autism so I didn't know to put 2 and 2 together from his much younger days. If I knew then what I know now, I would have known then that it didn't start with Asperger's for him, it started with full-blown Autism.
I finally had a direction to head with him, I finally had an idea what was going on and how to help him, or at least try. I was sad to find out that he has Asperger's Syndrome but I also realized that it wasn't like it happened overnight. He (we all) had been living with it for 12 years without knowing what it was, the only difference now was that there was a name put to it, and as I mentioned, finally a direction.
Limited Information Available
As I struggled to find information to help him I realized that there wasn't a whole lot out there.
So I started this website as my attempt to make the world a friendlier and easier place to negotiate for those living with children that have Asperger's Syndrome or Pervasive Developmental Disorder (PDD-NOS).
Since that time, the Internet has exploded with information.
So now, while this website does have some "clinical" information about Asperger's Syndrome, there's a lot here about:

How we have helped Cameron and ourselves to negotiate the many twists and turns of living with an Autism Spectrum Disorder (ASD)
New things out there to help with the various troubles that go hand in hand with Asperger's Syndrome
The drastic and risky change we made in our lives to get help for him
Soon a section where you can tell your stories, past and present, with Asperger's Syndrome, PDD-NOS, Autism (finally a non-judgmental place to unload)
... And just about anything I can find that has something to do with Asperger's, Autism, and PDD-NOS
If you have something you know about that can help others
please tell me
so that I can post about it here.
I'm hoping that by writing about our lives and experiences and challenges and successes, that you will be able to pick through it and find things that help with your situation. :o)
If you have any questions or comments or need any help with anything please do contact me and I'll do all I can to help, even if you don't have questions but need someone to talk to or unload on.
Come with me and let's travel this journey together so that we always have someone to lean on; someone to laugh with; someone to cry with; someone who knows and understands the things that those without experience with Asperger's Syndrome will *never* understand; someone who understands and loves our children, and us parents, unconditionally...
Diane
PS: You'll find that many of the pages I've written here (the glimpses into our life) come from an "unhappy place", whether despair or anger or call it what you will. While Cameron has improved and his school situation is better, and he has a friend now (although things are nowhere near perfect), I'm keeping the pages I wrote when I first started this website because I feel compelled to let others see where we've been. It is so easy to feel alone and scared and isolated when your child/grandchild, the child you care for and love with all of your heart, is struggling with Asperger's Syndrome - maybe by keeping my lowest of lows available here for reading, maybe I can help someone to feel not so alone. I really do hope...
PPS: Dad walked out of our lives in October 2010. It wasn't pretty, he said some really bad things to Cameron, but on the flip side Cameron came out of his shell a bit. I knew that the kids and I were greatly oppressed but I never realized how oppressed until dad left. So I guess on one hand it's sad but on the other hand it was a very good thing for Cameron, and Shelby and I. It's definitely one of those "lesser of the two evils" situations.
---
Back to the top of this page about
Asperger's Syndrome and PDD-NOS (Pervasive Developmental Disorder Not Otherwise Specified) - From the Trenches
---
For great ideas for Christmas, birthday, and other gifts for children with Asperger's Syndrome please click here
On this page we list the most recent additions to our Asperger's Syndrome website. If you don't use our RSS feed then make this page your first stop if you'd like to see our most recent postings.
Click here to check out some beautiful custom Autism Awareness gifts!
Help me my child has Asperger's Syndrome and is having a melt-down. Tell the world what will help you!
Video tape of Bob Wright of Autism Speaks Congressional Hearing Testimony
As we travel this road I am looking for the best Aspergers books I can find. Read my reviews here.
An article about coping with behaviors of a child with Asperger's Syndrome -- Click Here!
Get answers to your health questions from experts
Click here to read cute and memorable stories/moments shared by parents and caregivers of children and adults with Asperger's Syndrome
Aspergers syndrome success stories - Click through to read and post your own success stories
Check here for kids halloween costumes and other costumes for kids
The Mood Phone 'communicates' the mood of the person on the other end of the phone! Alas it's currently only a concept, not a real item...
What is Aspergers Syndrome? Real-life descriptions -- Click here
An inexpensive yet very essential guide to Aspergers
What's an Aspie?
Check this list of Asperger's Syndrome symptoms to learn the official diagnostic criteria for Asperger's Syndrome, usually listed as "DSM IV Diagnostic Criteria For 299.80 Asperger's Disorder".
Just when I think I understand sensory perception my son shows me another side of it. Here is what we've learned and are still learning...
I couldn't believe it when I read that Asperger's Syndrome is often caused by prenatal exposure to drugs and alcohol!
We were shocked to learn of the medication interactions our son was at risk of!
Natural Remedies for Asperger's Syndrome really do work!
Practical tips for parents to help siblings cope with the behaviors of a child with Aspergers
Home Schooling Aspergers: Excellent tips for homeschooling a child with Asperger's Syndrome. Click here!
Learn all you can about sending your Asperger's child to public school
Our life with Asperger's Syndrome: Join us as we laugh and cry through our days and nights with Asperger's Syndrome, and write about it here
We're here and we want to hear from you. Please use this page to contact us.
Disclosure information for Aspergers-and-PDD.com
Resources for Asperger's Syndrome and PDD-NOS
Work at home with SBI! SiteSell? Is it actually possible? Yes you can do it. I am and you can too! Click here!